Kat Grier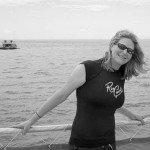 Kat Grier is a hopeless romantic and adrenaline junkie. Her career as a tax CPA is generally viewed as incongruent to those who know Kat's true liberal, punk rock nature—however her profession does position her well for an everyday challenging of the system. She is probably best known for overbooking her social life and never having a fully charged phone.
Kat began watching TV with her bestie Valerie in the fall of '98, a time when 8 pm EST on Wednesday nights meant juggling two shows that she's not ashamed to admit to watching, Dawson's Creek and Beverly Hills 90210. Before streaming and DVR, commitment to appointment viewing meant recording one on VHS and watching the other in real time (with commercials!). It also meant Valerie requesting every Wednesday night off work and Kat skipping failing two college Calculus courses. Since then, Valerie has influenced almost all of her series binging (which has become a thing Kat does to get through her breakups life). Among her favorites are: How I Met Your Mother, Fringe, The Newsroom, Girls, Friday Night Lights, Orphan Black, and countless more.
Kat would have to say most of her favorite "chick flicks" are from the 1980s, a time before her sexual identity conflicted with today's archetypal heteronormative love stories of overwhelming proportions. Kat looks forward to those discussions between Valerie and Helen and plans to lend her voice to future conversations.
---
Karen Wurl 
 Karen Wurl is a playwright, dramaturg, director, teacher, and semi-retired slam poet.  She's spent half her life in Chicago, half her life in Atlanta, and the extra bits in Michigan, Wisconsin, and Texas.  Plays include Transference, Kim's Theory about the Struggle Between Good and Evil, Only Children, The Play about Frank, Death or Serious Injury Can Occur, The Secret Life of the Proletariat, Miss Macbeth, Vampires, Now and at the Hour Of, Daughter of Fate: The True Story of a Caterer, and In Which I Lose My Virginity to My Best Friend's Older Brother.  She is currently working on her dissertation, which includes a play titled Underworld, in which a woman deals with the death of her father and the disappearance of her daughter, as well as Dispossessed, a feminist, comic take on S. Ansky's seminal The Dybbuk, or Between Two Worlds.  She is also looking for work as a teacher of English and/or Theatre.  Hire her, or recommend her to those who can hire her.  She will live anywhere (as long as her cats are allowed there, because you don't rescue someone to just dump them when it gets inconvenient).
---
Frances Chang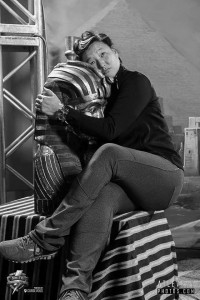 Puppets, wrestling, circus–Frances has worked with some of the coolest entertainment companies around. At Dad's Garage she is Front of House volunteer extraordinaire–helping with ticketing, ushering, and keeping the place looking sparkly fresh! Most recently she has been performing improv and writing sketch comedy.